PARTICIPIANT EXHIBITION VENICE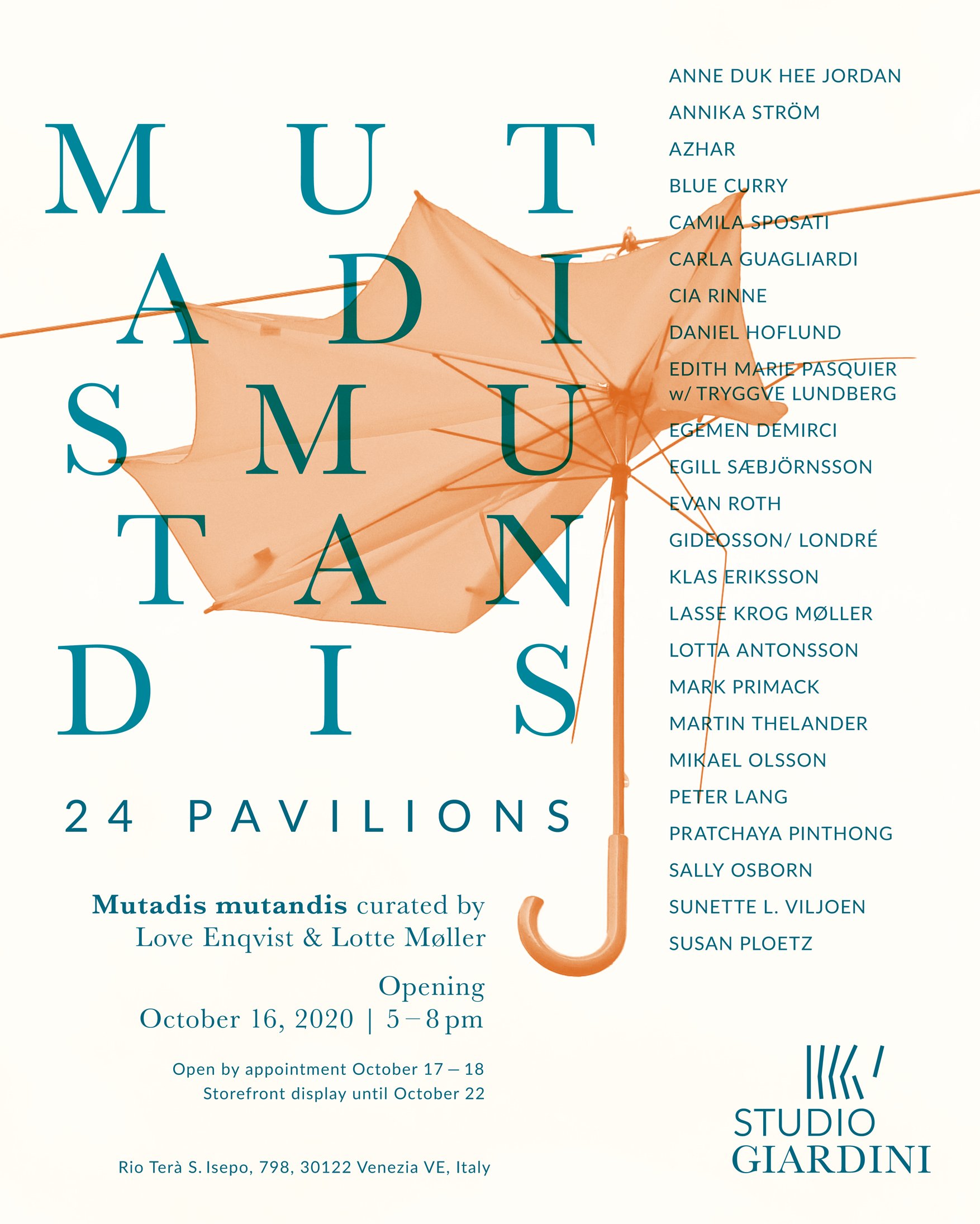 Mikael Olsson participate in the exhibition in 'Mutadis Mutandis – 24 pavilions'.

As an impromptu response to the cancellation of the Venice architecture biennial and the subsequent postponement of the upcoming art biennial, 'Mutadis Mutandis' showcases 24 proposals for future/imaginary pavilions free of any geopolitical, economic, physical, durational, or cosmic limitations.

Studio Giardini is – very suitably – situated in close proximity to the Giardini della Biennale in a residential neighborhood directly behind the oldest foreign pavilion inaugurated in 1907.

Curated by Love Enqvist and Lotte Møller

OCTOBER 16, 2020

Share on Facebook Twitter








SPECIAL EDITION ON | AUF
Warning
: Undefined array key 403 in
/www/webvol25/om/gp0swynzq9m9b1v/mikaelolsson.se/public_html/index.php
on line
420
Warning
: foreach() argument must be of type array|object, null given in
/www/webvol25/om/gp0swynzq9m9b1v/mikaelolsson.se/public_html/index.php
on line
420
OCTOBER 15, 2020

Share on Facebook Twitter








WINNER SWEDISH BOOK ART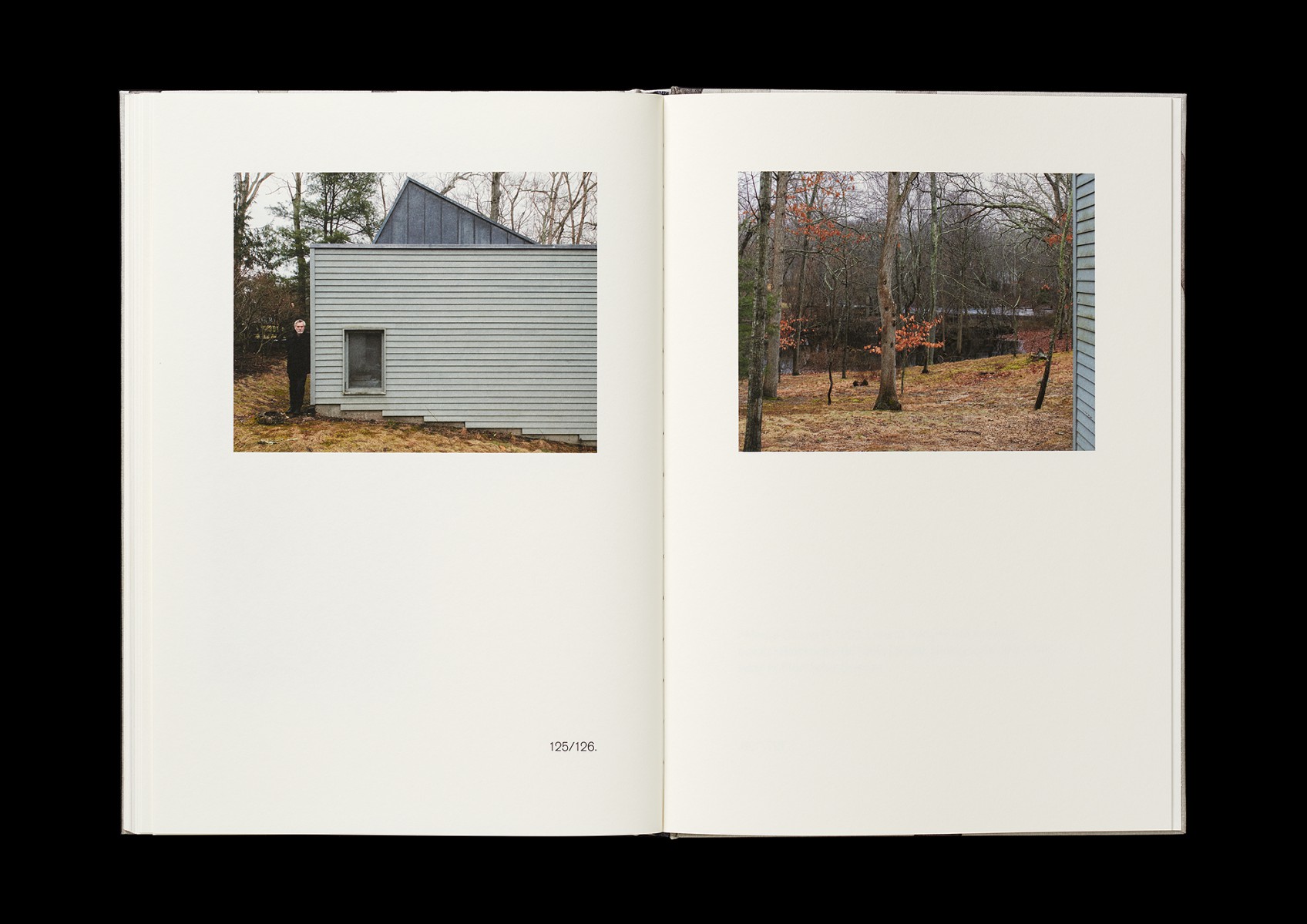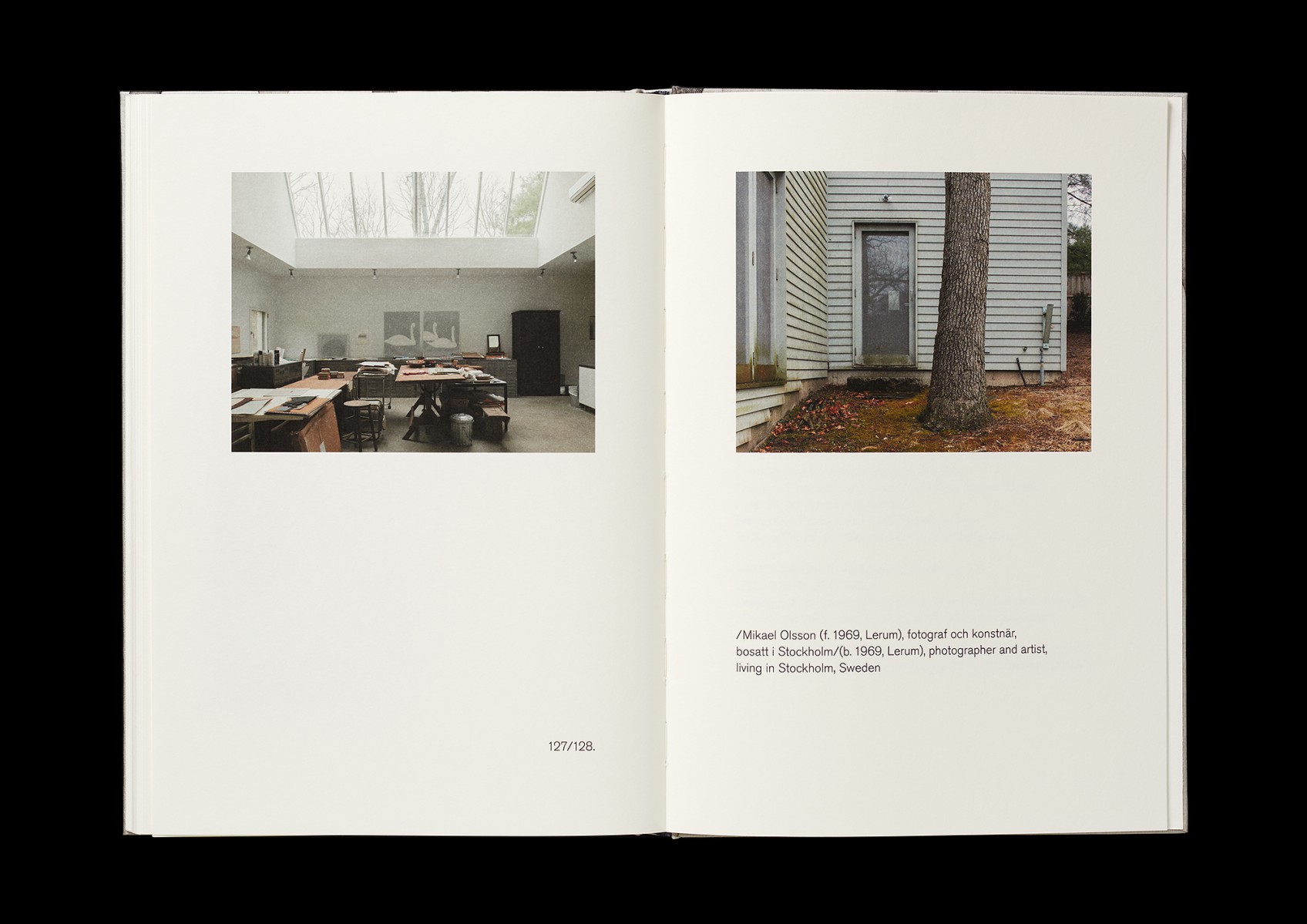 The book "Mats Gustafson" is one of the 25 books that this year's jury has chosen as winner of Swedish Book Art 2019.
The award ceremony and the opening ceremony for the exhibition of the winning books will take place on Thursday, October 1 at the Royal Library at 5pm.
In addition to the exhibition at the Royal Library, the winning books will represent Sweden in the international book competition Die Schönsten Bücher aus aller Welt, which annually exhibits at the trade shows in Leipzig and Frankfurt. Mikael Olsson contribution is the series of photographs of Mats Gustafson Studio.

Titel: Mats Gustafson
Author: Bera Nordahl, Gerda Antti och Joanna Persman
Publisher: Nordiska Akvarellmuseet
Illustrator: Mats Gustafson
Photographer: Mikael Olsson
Artist: Mats Gustafson
Designer: Henrik Nygren
Publishing Editor: Joanna Persman
Original Production: Keun Kim Roland
Layout: Keun Kim Roland
Repro: Göteborgstryckeriet
Printing: Göteborgstryckeriet
Bookbinding: Förlagshuset Nordens Grafiska
Publishers: Nordiska Akvarellmuseet
Print Technique: Offset, foliering
Insert: Munken Pure Rough 170 gram
Arctic paper
Band: Printa 0106, offset och folierad text
Font: Berthold Akzidenz Grotesk Light, 26,08 pt/34,024 pt (rubrik), 16,3 pt/21,265 pt (brödtext)
Measure: 240×340 mm
Volume: 128 sidor
Price: 750 SEK
EDITION: 1500
ISBN: 978-91-89477-69-8
OCTOBER 1, 2020

Share on Facebook Twitter

→ Swedish Book Art







NEW BOOK AT STEIDL VERLAG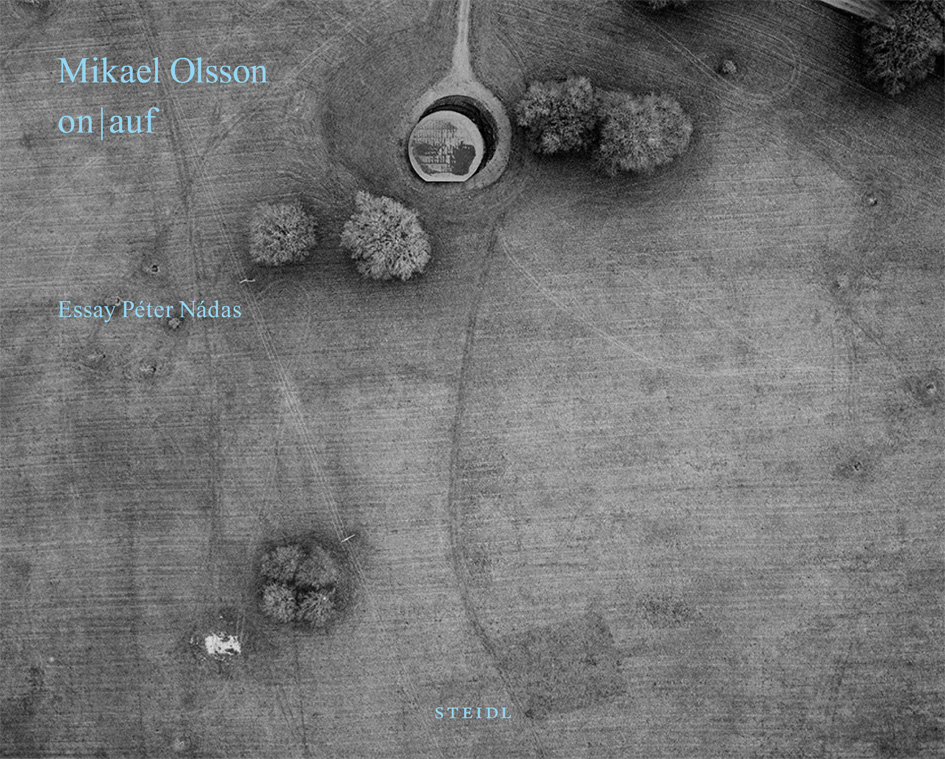 "The images of Mikael Olsson are held by the tension between visual faculties and visual conventions, the reality of perception and the reality of vision, of the concrete and the abstract." Péter Nádas

In on | auf the Swedish artist Mikael Olsson undertakes a photographic study of the Swiss architects Herzog & de Meuron's and the Chinese artist Ai Weiwei's temporary pavilion at the Serpentine Gallery in London 2012.

By investigating the traces of their creative processes in their archives, and exploring the relation between their pavilion and its shifting contexts, Olsson creates visual narratives which uncover questions about displacement, perception, and space.

The book includes an essay by the Hungarian writer and photographer Péter Nádas entitled 'Loaned Landscapes, Borrowed Objects. The Real Space of the Image and the Representation of Space in Mikael Olsson's Photography.'

Steidl Verlag
Publication date 09/2020


A special first edition of the book, with a signed silver gelatin print on | auf 09, 24×30 cm, housed in a handmade clothbound box. Edition of 30 copies, plus 10 artist's proofs, available directly from the artist.
SEPTEMBER 1, 2020

Share on Facebook Twitter

→ STEIDL







LESSONS OF THE HOUR - FREDERICK DOUGLASS: SPECIAL VIEWING ONLINE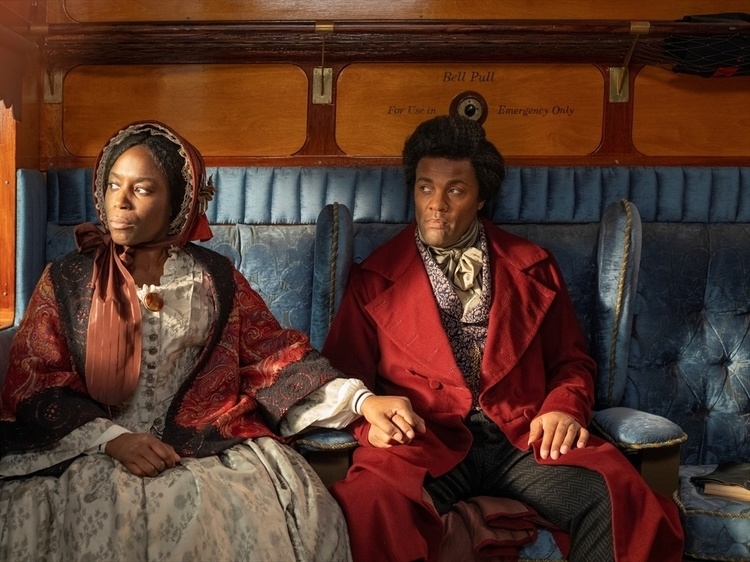 LESSONS OF THE HOUR will be viewable exclusively for the University community at home from August 20-23, 2020. A link to view a single-screen version of the work will be included in the reminder email you will receive the morning of the conversation.

Mikael Olsson appear in the film.

AUGUST 19, 2020

Share on Facebook Twitter

→ Rochester







CURATED PLAYLIST FOR GALERIE NORDENHAKE ON SPOTIFY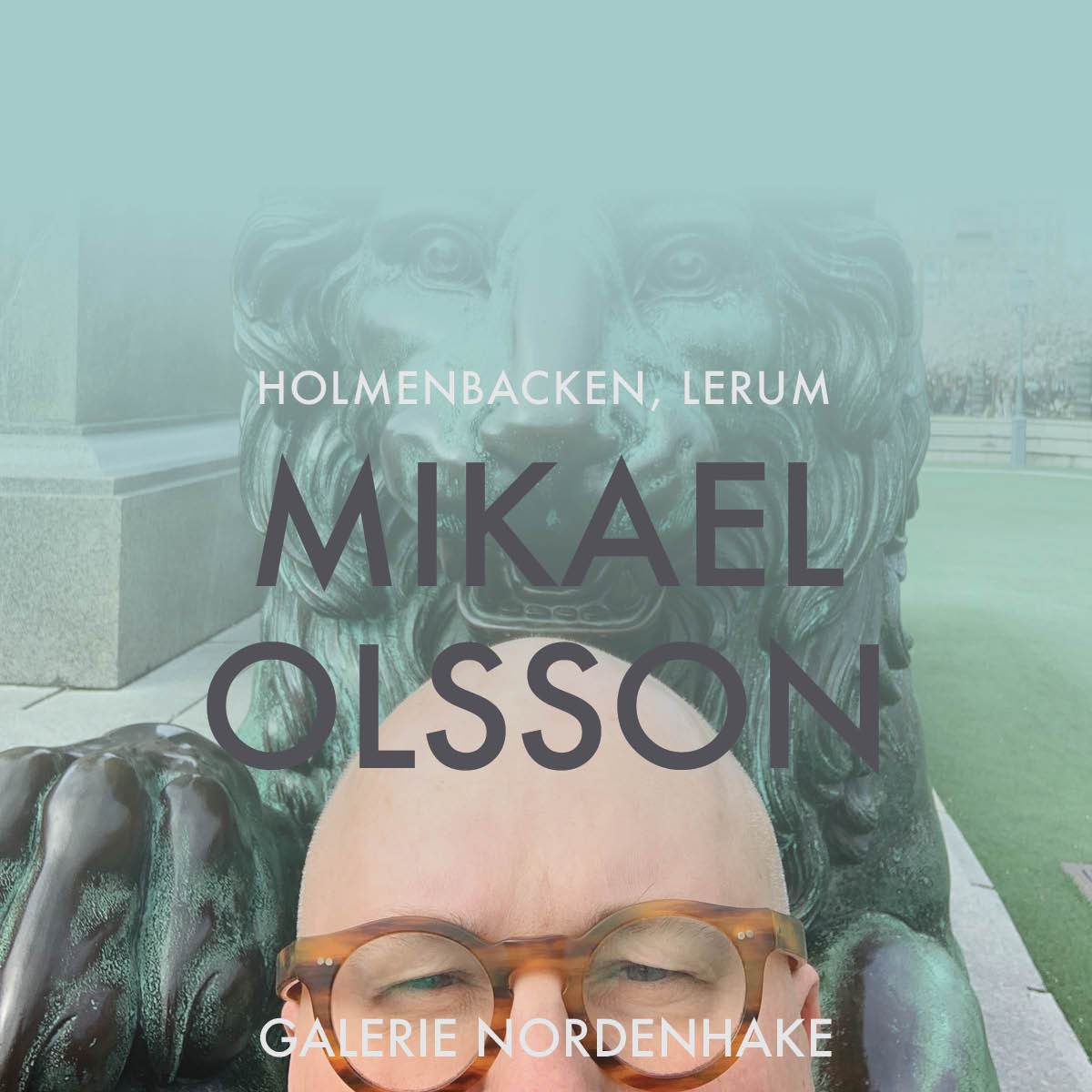 Mikael Olsson - Holmenbacken, Lerum.

"... and music" is a project by Galerie Nordenhake and their artists, where one artist at a time shares their curated playlist on Spotify.

Go to the link below.
APRIL 14, 2020

Share on Facebook Twitter

→ Curated playlist for Galerie Nordenhake on Spotify







STIL - RADIO SHOW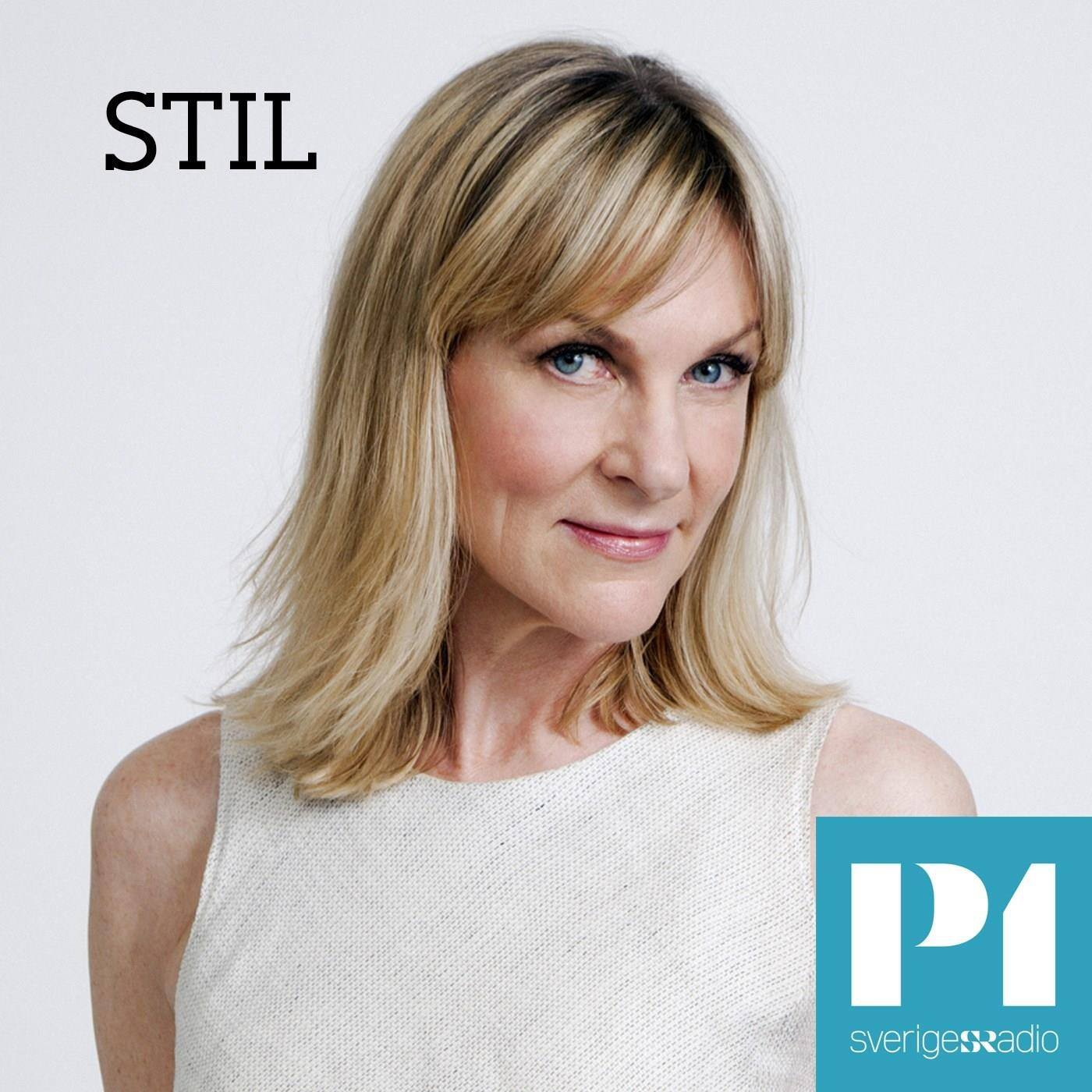 Conversation with Blenda Setterwall Klingert and Luca Guadagnino on national Swedish radio (Public service) program Stil.

Italy's most recognizable filmmaker today is director Luca Guadagnino, known for films such as Call Me By Your Name. His latest film Suspiria is a reinterpretation of the iconic Italian horror film of the same name. The film shows the Swedish artist and photographer Mikael Olsson in a role and his photographs from the recording have also become Japanese fashion designed by Jun Takahashi. We spoke to them and found out more about the process.

Mikael Olsson appear 19.50 min in the program, see below link

The program is about Sophia Loren and Italian film.

Sophia Loren - likes the style of glamour and good food
Sophia Loren is one of the last living stars of "The golden age of Hollywood". She became known for her beauty and glamour, 85 years old and she is still very active. This week's guest is Louise Wallenberg, professor of fashion science at Stockholm University.

Stil is a national Swedish radio program (public service), a weekly show that has run since 2006, revolving around design, art, fashion, cultural history.

Susanne Ljung, Program Manager
Erik Sjölin, producent
Blenda Setterwall Klingert, reporter
MARCH 27, 2020

Share on Facebook Twitter

→ STIL







INTERVIEW - FOTOGRAFISK TIDSKRIFT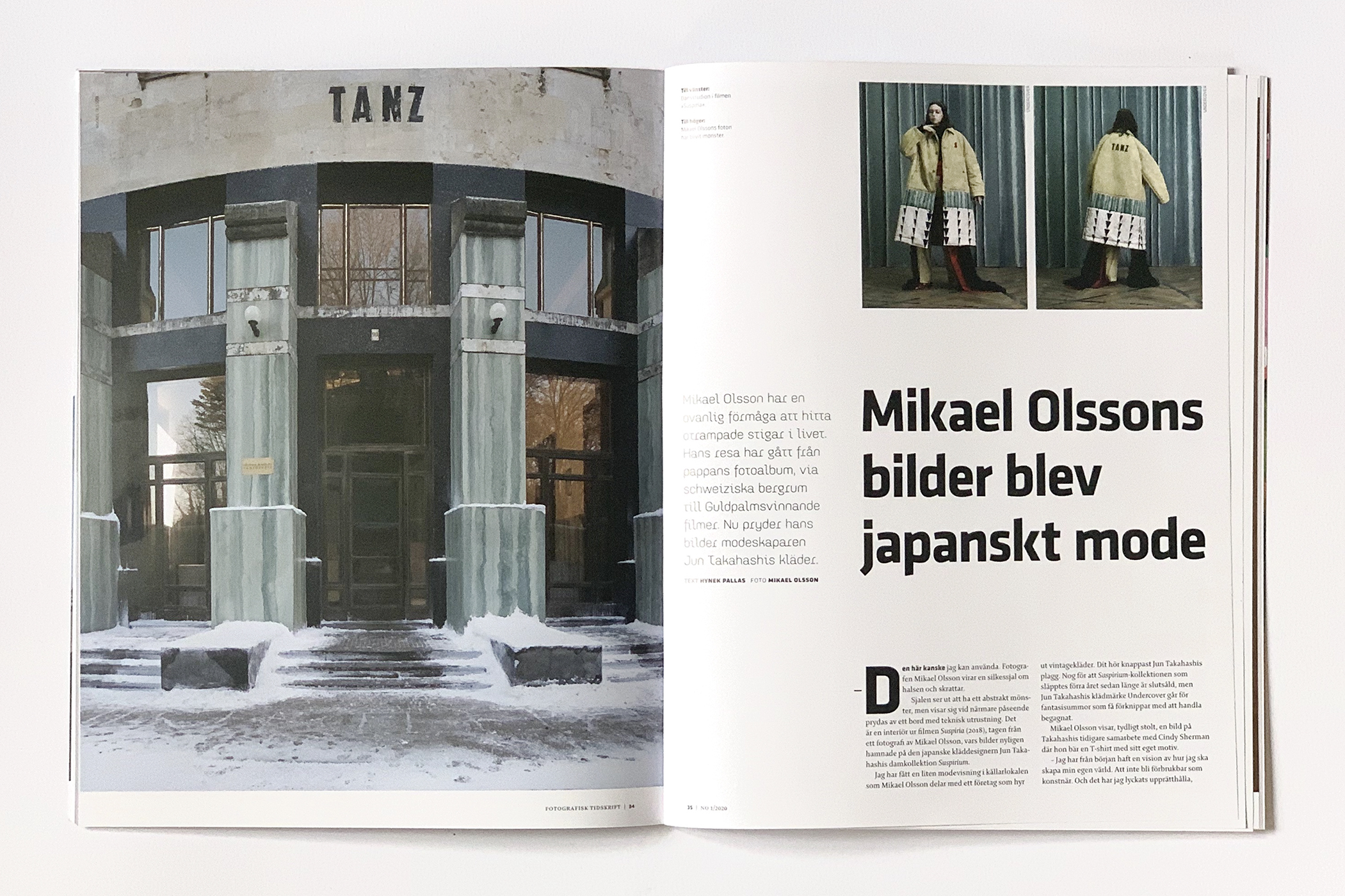 Interview by Hynek Pallas for Fotografisk Tidskrift 1.2020.

Mikael Olsson images became Japanse fashion.
MARCH 26, 2020

Share on Facebook Twitter








LECTURE SSE ART INITIATIVE
Warning
: Undefined array key 393 in
/www/webvol25/om/gp0swynzq9m9b1v/mikaelolsson.se/public_html/index.php
on line
420
Warning
: foreach() argument must be of type array|object, null given in
/www/webvol25/om/gp0swynzq9m9b1v/mikaelolsson.se/public_html/index.php
on line
420
SSE Art Initiatives course Art and Luxury.
Led by Pierre Guillet de Montoux. Atmospheric conversations with Mikael Olsson and Astrid Birnbaum.

Guillet de Monthoux, Pierre; Guest Professor and Director SSE Art Initiative.
Course Secretariat: Anna Harding; Arts and Culture Communications Specialist SSE and , Tinni Ehrnsjöö Rappe; Art and Literature Manager SSE Art Initiative. Anna Meijerberg, SSE.
Course Counselor: Michael Storåkers Storåkers, founder of CF Hill convener of the CFHill Art Initiative Executive colloquia.

Guest lectures:
Åman Jan, curator; Arrhenius, Lars, artist; Bond, Cay, curator; Borg, Alexandra, docent UU; Birnbaum, Astrid, student; Brogblad Hanna, researcher GHS; Dahl Matilda, ass. Professor UU; Fänge Jens, artist; Fenili, Stefano, executive Bain & Co Milano; Goldin + Senneby, Simon Goldin and Jakob Senneby artists; Harding, Anna, SSE Art Initiative; Helin, Jenny, docent UU; Jensen Annie, curator; Jessica Backsell, researcher SSE; Josefsson Lena, Moderna Museet; Lundgren, Johan, executive Bain & Co Stockholm; Nilson Isak, SSE Art Initiative; Nilsson John Peter, museum strategist MM; Olsson Mikael, artist; Selander Lina, artist; Stasinski, Robert, curator; Verganti, Roberto, professor SSE; Wallenstein, Sven-Olov professor SUC; Wikberg Erik Dr. researcher SSE


MARCH 25, 2020

Share on Facebook Twitter








FORM MAGAZINE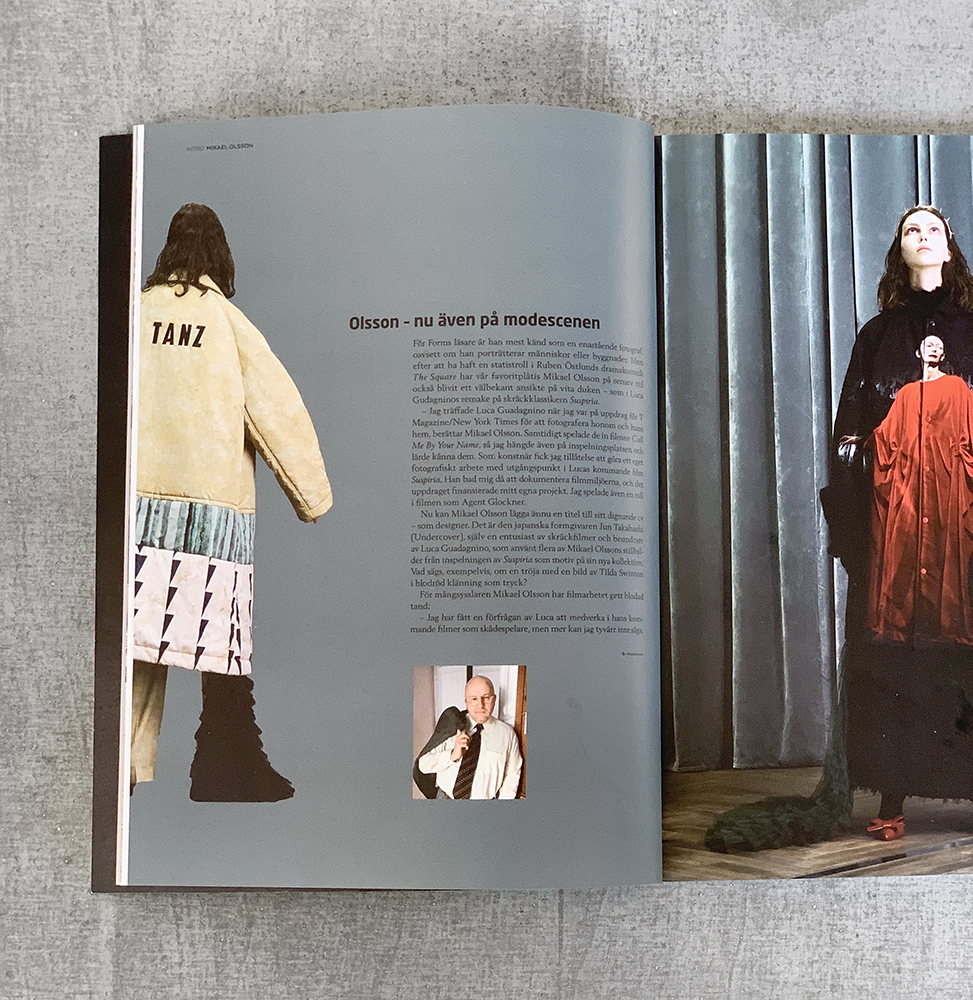 FORM Magazine December issue 6, 2019 present Mikael Olsson photographs printed on Japanese fashion designer Jun Takahashi/Undercover collection Suspirium 19AW based on the Luca Guadagnino film Suspiria.
DECEMBER 10, 2019

Share on Facebook Twitter








1
2
3
4
5
6
7
8
9
10
11
12
13
14