FUTURE ANTERIOR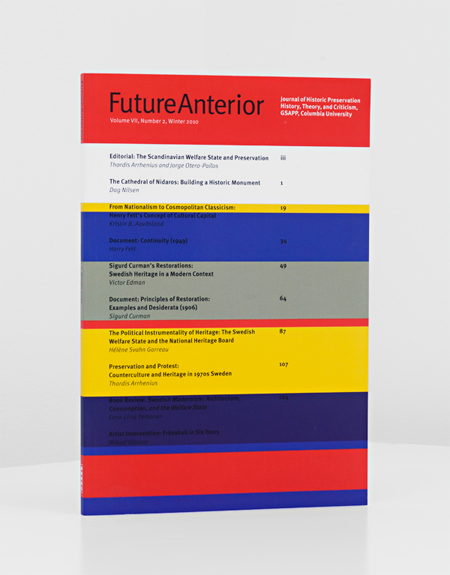 Future Anterior publish Artist Intervention: Frösakull in Six Years by Mikael Olsson in Volume 7, Number 2, Winter 2010. Columbia University Graduate School of Architecture, Planning and Preservation.

Future Anterior is a peer reviewed scholarly journal published twice a year by the University of Minnesota Press. The journal approaches historic preservation from a position of critical inquiry, rigorous scholarship, and theoretical analysis. Future Anterior is an important international forum for the critical examination of historic preservation, spurring challenges of its assumptions, goals, methods, and results. As the first journal in American academia devoted to the study and advancement of historic preservation, it provides a much-needed bridge between architecture and history.

The journal also features provocative theoretical reflections on historic preservation from the point of view of art, philosophy, law, geography, archeology, planning, materials science, cultural anthropology, and conservation.

→ FUTURE ANTERIOR
APRIL 9, 2012

Share on Facebook Twitter

→ FUTURE ANTERIOR VOL 7, NUMBER 2 WINTER 2010







JULIA STOCHECK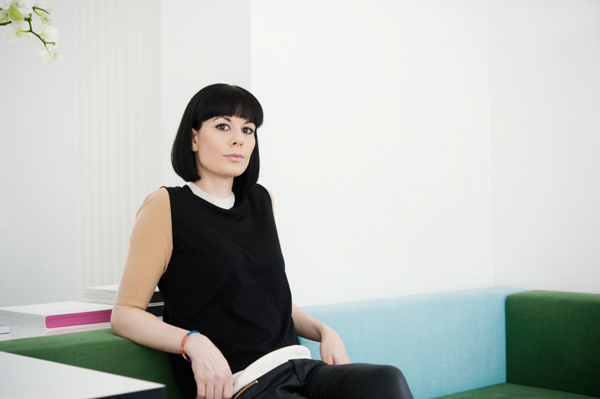 Portrait of Julia Stocheck for Artlover Magazine. If you are in Düsseldorf I highly recommend a visit at the Julia Stocheck Collection.

→ JULIA STOSCHEK COLLECTION
APRIL 2, 2012

Share on Facebook Twitter

→ ARTLOVER MAGAZINE







STOREFRONT FOR ART AND ARCHITECTURE'S SPRING BENEFIT RED/READ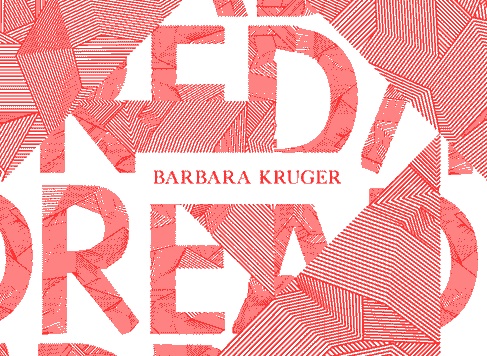 Participating in Storefront for Art and Architecture's Spring Benefit RED/READ.
Honoring Barbara Kruger & Bernard Tschumi at The Woolworth Building.

Auction featuring works by artists and architects including:
Vito Acconci, Dennis Adams, Erieta Attali, Daniel Arsham, Iwan Baan, John Baldessari, Gabriele Basilico, Phong Bui, Beth Campbell, James Casebere , Matilde Cassani, Peter Eisenman, Tony Feher, Haas & Hahn, Anthony Hamboussi, Steven Holl, Patrick Jackson, Louis I. Kahn, Rem Koolhaas, OMA, Barbara Kruger, Louise Lawler, An Te Liu, Antonio Muntadas, Shirin Neshat, Mikael Olsson, Roxy Paine,Lucy Raven, Pedro Reyes, François Roche, Cordy Ryman, Fanny Sanín, Tomas Saraceno, Gedi Sibony, Xaviera Simmons, Mikhael Subotzky, Stephen Talasnik, Marjan Teeuwen , Bernard Tschumi, Robert Venturi and Denise Scott Brown, Lawrence Weiner and James Welling.

Cocktails, Hors d'oeuvers, A Building Performance and An "Almost" Silent Auction.

March 29, 2012
6:30 - 9:00 PM
The Woolworth Building
233 Broadway, New York City

→ STOREFRONT FOR ART AND ARCHITECTURE
MARCH 29, 2012

Share on Facebook Twitter








LADOS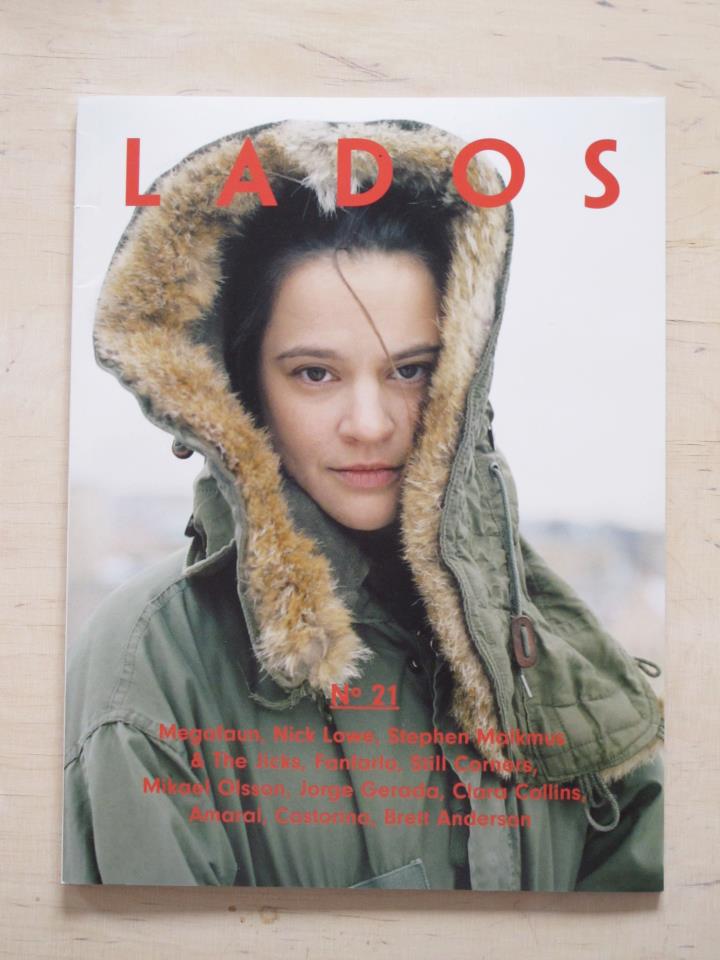 Lados magazine presentation of Mikael Olsson work in issue 21. Text by Ana Himes. Contribution Megafaun, Nick Lowe, Stephen Malkmus & The Jicks, Fanfarlo, Still Corners, Jorge Gerada, Clara Collins, Amaral, Castorina, Brett Anderson.

→ LADOS page 20-25

MARCH 15, 2012

Share on Facebook Twitter

→ LADOS







EMBASSY OF SWEDEN WASHINGTON DC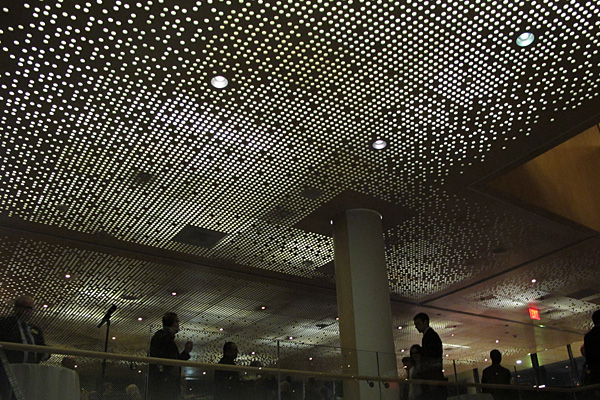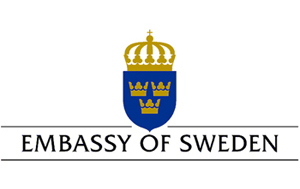 The photography exhibition by artist Mikael Olsson, Södrakull Frösakull, Photography, Voyeurism and Abject Modernism will be on display in House of Sweden from March 1 - May 6. It starts with an opening event on the evening of March 1st with many well known guest such as Sweden's Minister for Enterprise, Annie Lööf, Ambassador Jonas Hafström and Alec Ross, Senior Advisor for Innovation to Secretary of State Hillary Clinton.
MARCH 1, 2012

Share on Facebook Twitter

→ EMBASSY OF SWEDEN







MEET THE ARTIST AT EMBASSY OF SWEDEN WASHINGTON DC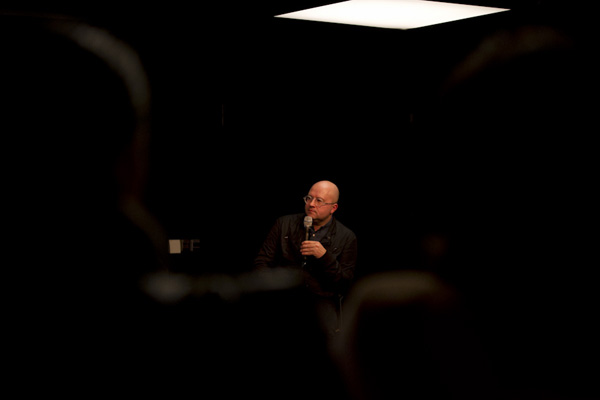 PHOTOGRAPHY © KAVEH SARDARI
Embassy of Sweden presents Meet the Artist: Mikael Olsson, on February 29th in House of Sweden. A discussion between swedish artist Mikael Olsson and moderator Jack Rasmussen, Director and Curator at American University Museum at the Katzen Art Center.

Enjoy this preview of Olsson's upcoming exhibition Södrakull Frösakull that will open in House of Sweden on March 1st. Doors will open at 6:00 pm and discussion starts at 6:30 pm. Light reception. Embassy of Sweden, Washington, D.C. 2900 K Street, NW Washington, 20007, United States.
FEBRUARY 29, 2012

Share on Facebook Twitter

→ EMBASSY OF SWEDEN







SVENSKT TENN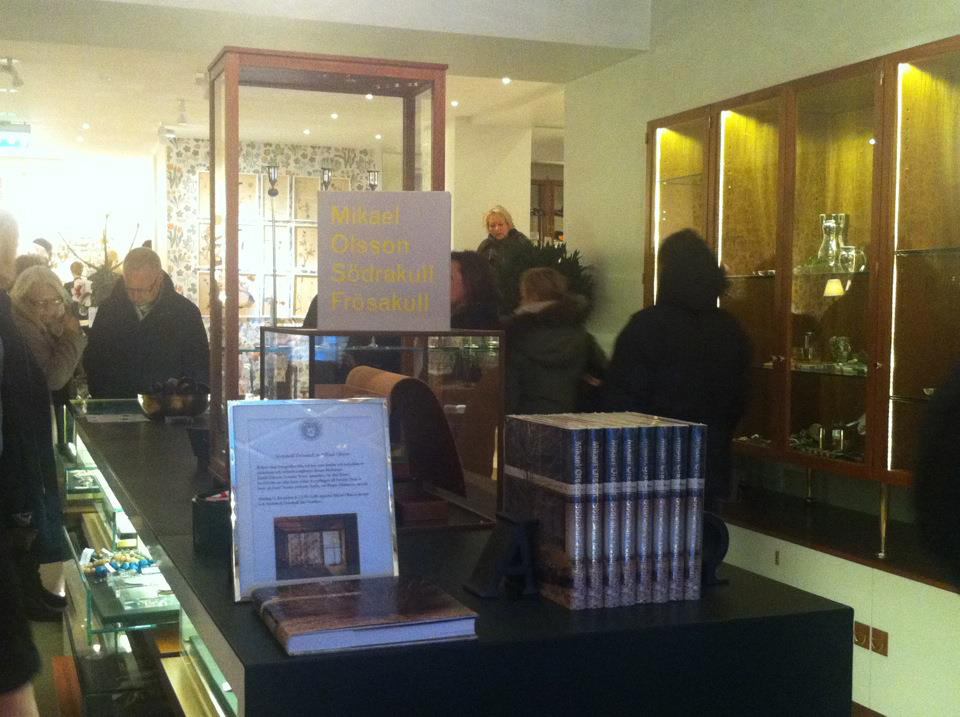 Sunday, December 11th at 1 - 3 pm Mikael Olsson is signing his new book Södrakull Frösakull in the store Svenkt Tenn, Strandvägen 5. Welcome.

The book shows photographs of two houses that were designed and inhabited by architect and furniture designer Bruno Mathsson. Estrid Ericson, Svenskt Tenn's founder, was the first in Stockholm to sell his chairs. The link to the Svenskt Tenn was also to Josef Frank designs Aralia, was Bruno Mathsson's favorite.
DECEMBER 11, 2011

Share on Facebook Twitter

→ SVENSKT TENN







STENA 15 AT GOTHENBURG ART MUSEUM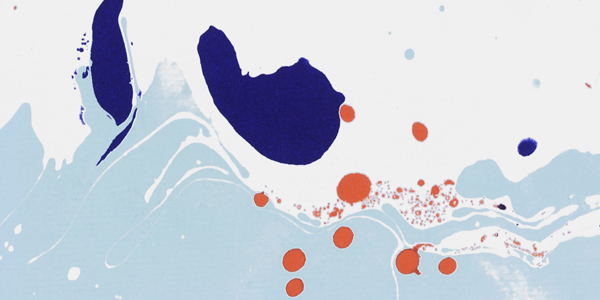 STENA 15 – Sten A Olsson´s Cultural Grant 1996-2011
Welcome to the opening Sat Dec 3 at 11am - 5pm. Museum Director Isabella Nilsson says welcome at 1pm and Madeleine Olsson Eriksson inaugurates. Curator Sune Nordgren presents the exhibition Stena 15.

Gothenburg Art Museum ended 2011 with two exhibitions, an anniversary exhibition to celebrate the Stena Foundation's first fifteen years, and a solo exhibition of the 2011 Stena Fellow - artist Henrik Håkansson.

Sune Nordgren was curator of the anniversary exhibition. Among all the artists with Sten A. Olsson's cultural grants for visual artists, eight were sampled to reflect the contemporary as the price represents. The artists, all related to western Sweden, but works internationally. Monica Englund, Jens Fänge, Annika von Hausswolff, Eva Hild, Jarl Ingvarsson, Maria Lindberg, Mikael Olsson och Ola Åstrand. Until Feb 19 2012.

Gothenburg Art Museum
Götaplatsen
SE 412 56 Göteborg
DECEMBER 3, 2011

Share on Facebook Twitter

→ STENA STIFTELSEN







SKISSERNAS MUSEUM LUND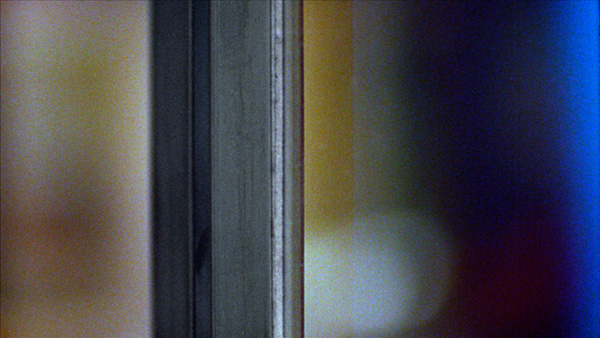 The film SALLE 2:118 SIRI by Jakob Márky och Mikael Olsson. Displayed in conjunction with the exhibition Siri Derkert at Skissernas Museum Lund. Oct 30 until 2011 - Feb 19, 2012.

OCTOBER 30, 2011

Share on Facebook Twitter

→ SKISSERNAS MUSEUM







EN BOK, EN FöRFATTARE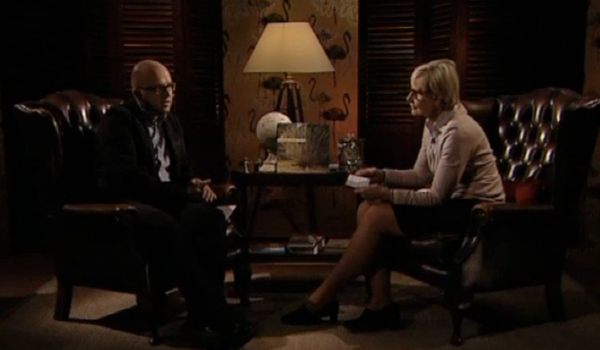 The Tv-program En bok, en författare (A book, an author) lead by culture journalist Kerstin Brunnberg interviewed Mikael Olsson for UR Kunskapskanalen/Swedish Televison about the book Södrakull Frösakull.

Watch here (in swedish): → EN BOK, EN FÖRFATTARE
SEPTEMBER 21, 2011

Share on Facebook Twitter








1
2
3
4
5
6
7
8
9
10
11
12
13
14