ART TALK STOCKHOLM SCHOOL OF ECONOMICS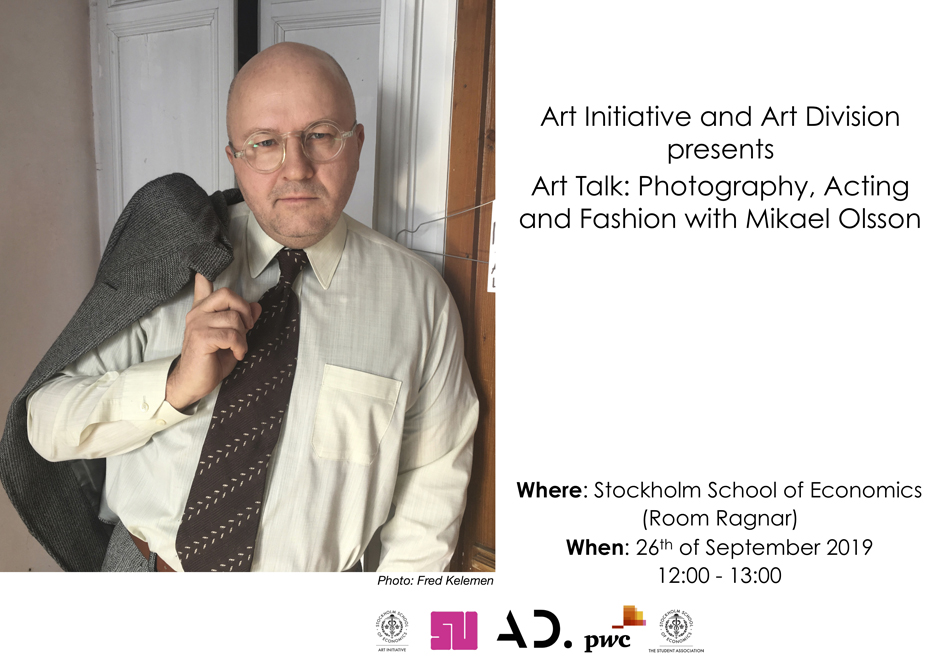 We are glad to present an art talk with the internationally acclaimed photographer and artist Mikael Olsson, who will give us an exclusive insight into his artistic practice and ongoing projects bridging photography, acting, and fashion.

Olsson's photographic works have been exhibited widely across the world, most recently at the Venice Biennale (2018). He has generated several artist books such as Södrakull Frösakull (Steidl, 2011), where he portrays the relationship between memory, identity and architecture, and the forthcoming book on | auf (Steidl, 2019) that includes an essay by author Péter Nádas, dealing with questions of perception, displacement, and liminal spaces.

Olsson's images are frequently featured in T Magazine/New York Times. As an actor, Olsson has performed in the Palme d'Or winning film The Square (2017) by Ruben Östlund, the horror movie Suspiria (2018) by Luca Guadagnino, and in Lessons of the Hour (2019), by artist Isaac Julien. Olsson's images are also featured on the autumn 2019 collection by the fashion designer Jun Takahashi/Undercover.

Mikael Olsson is represented by Galerie Nordenhake Stockholm/Berlin.

- Lunch will be served -

Room: Ragnar at Stockholm

School of Economics
Sveavägen 65
113 83 Stockholm

Externals may sign-up by e-mailing: artinitiative@hhs.se
RSVP by the 25th of September 13:00
SEPTEMBER 26, 2019

Share on Facebook Twitter

→ www.hhs.se







STEIDL YOUTUBE
Warning
: Undefined array key 369 in
/www/webvol25/om/gp0swynzq9m9b1v/mikaelolsson.se/public_html/index.php
on line
420
Warning
: foreach() argument must be of type array|object, null given in
/www/webvol25/om/gp0swynzq9m9b1v/mikaelolsson.se/public_html/index.php
on line
420


'A Book is a Physical Thing - It's Something You Hold and Live With' Interview with Mikael Olsson


In on | auf the Swedish artist Mikael Olsson undertakes a photographic interpretation of the Swiss architects Herzog & de Meuron's and the Chinese artist Ai Weiwei's temporary pavilion at the Serpentine Gallery in London.

By investigating the traces of their creative processes in their archives,and exploring the relation between the structure and its various contexts, Olsson creates images that follow and go beyond the object—a visual narrative uncovering issues of memory, identity and perception.

The book includes an essay by author Péter Nádas entitled Loaned Landscapes, Borrowed Objects. The Space of the Image and the Image of Space in Mikael Olsson's Photography.
JUNE 26, 2019

Share on Facebook Twitter

→ STEIDL YOUTUBE







METRO PICTURES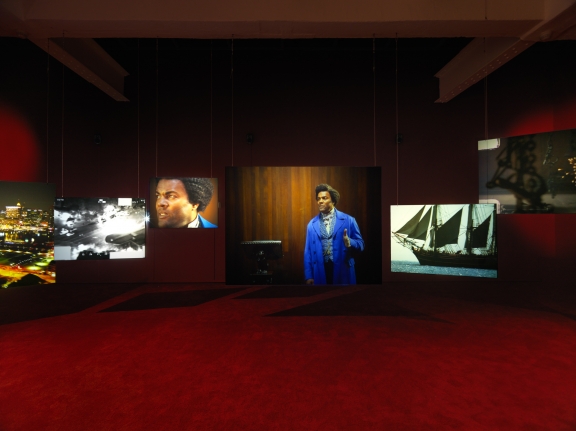 Mikael Olsson stars in Lessons of the Hour, a multi-screen film and video installation by pioneering global media artist Isaac Julien commission by Memorial Art Gallery, University of Rochester, New York.

Isaac Julien's visionary ten-screen film installation Lessons of the Hour explores the incomparable achievements of America's foremost abolitionist figure. After escaping slavery in Maryland, Frederick Douglass gained celebrity on the abolitionist circuit as an extraordinary orator, becoming the most photographed American of the 19th century. Julien's project is informed by some of Douglass's most important speeches, such as "Lessons of the Hour," "What to the Slave Is the 4th of July?," and "Lecture on Pictures," the latter being a text that connects picture-making and photography to his vision of how technology could influence human relations. Julien's immersive work gives expression to the zeitgeist of Douglass's era, his legacy, and the ways in which his story may be viewed through a contemporary lens.

At Metro Pictures Gallery, New York, March 8 - April 13, 2019.
MARCH 8, 2019

Share on Facebook Twitter

→ Metro Pictures







JUN TAKAHASHI/UNDERCOVER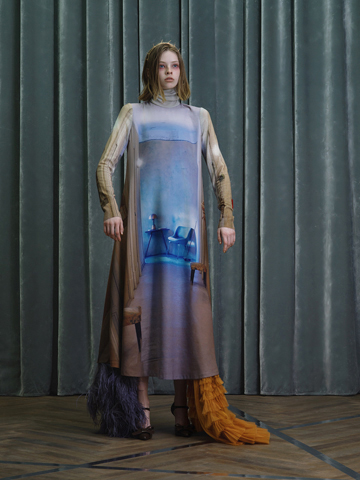 Photographs by Mikael Olsson are now ready to wear. Printed on the collection by Jun Takahashi of Japanese label UNDERCOVER LAB 19AW WOMENS "SUSPIRIUM" Collection. Special Thanks to Luca Guadagnino
MARCH 3, 2019

Share on Facebook Twitter

→ Dazed







WORLD PREMIERE LESSONS OF THE HOUR BY ISAAC JULIEN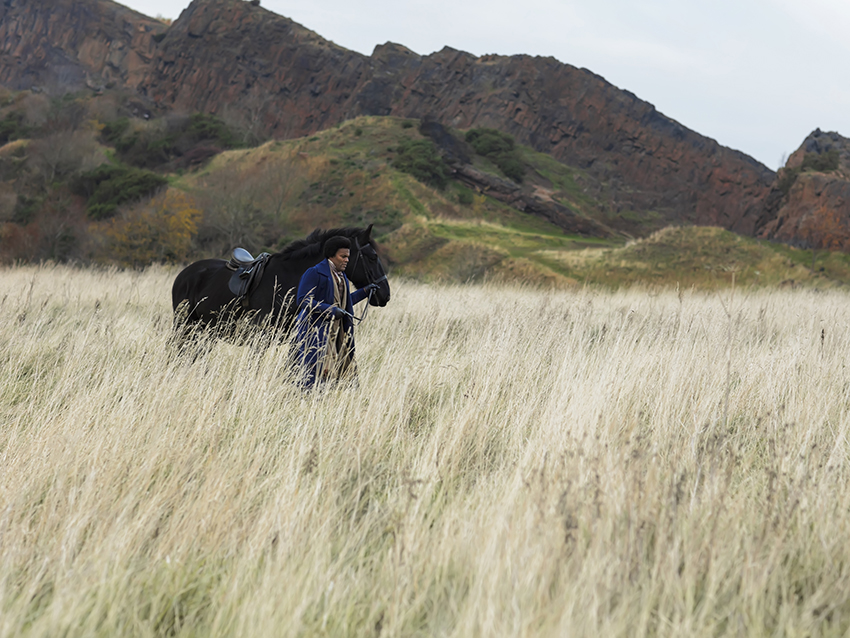 Mikael Olsson stars in Lessons of the Hour, a multi-screen film and video installation by pioneering global media artist Isaac Julien commission by Memorial Art Gallery, University of Rochester, New York.

Isaac Julien's work will be freely inspired by the lives of two of the most iconic residents of Rochester, NY: the visionary African American abolitionist Frederick Douglass, a freed slave who became the most photographed man of his generation, as well as his friend, anti-slavery and women's rights activist Susan B Anthony.

Working with a series of vignettes and tableaux, such as the reconstruction of the photographic studio and gallery of James Presley Ball, Julien will explore key aspects of their activities in Rochester, as well as Douglass's speaking tours of England in 1845 and 1859. Through extensive use of Frederick Douglass's 'timely words', intertwined with special visual effects, as well as music and poetry from that time, Julien will create a multiple screen film installation, to be presented in early 2019.

Premier at Memorial Art Gallery, Rochester March 3, 2019 and Metro Pictures Gallery, New York early March 2019.
MARCH 3, 2019

Share on Facebook Twitter

→ MAG







RUM MAKTLISTAN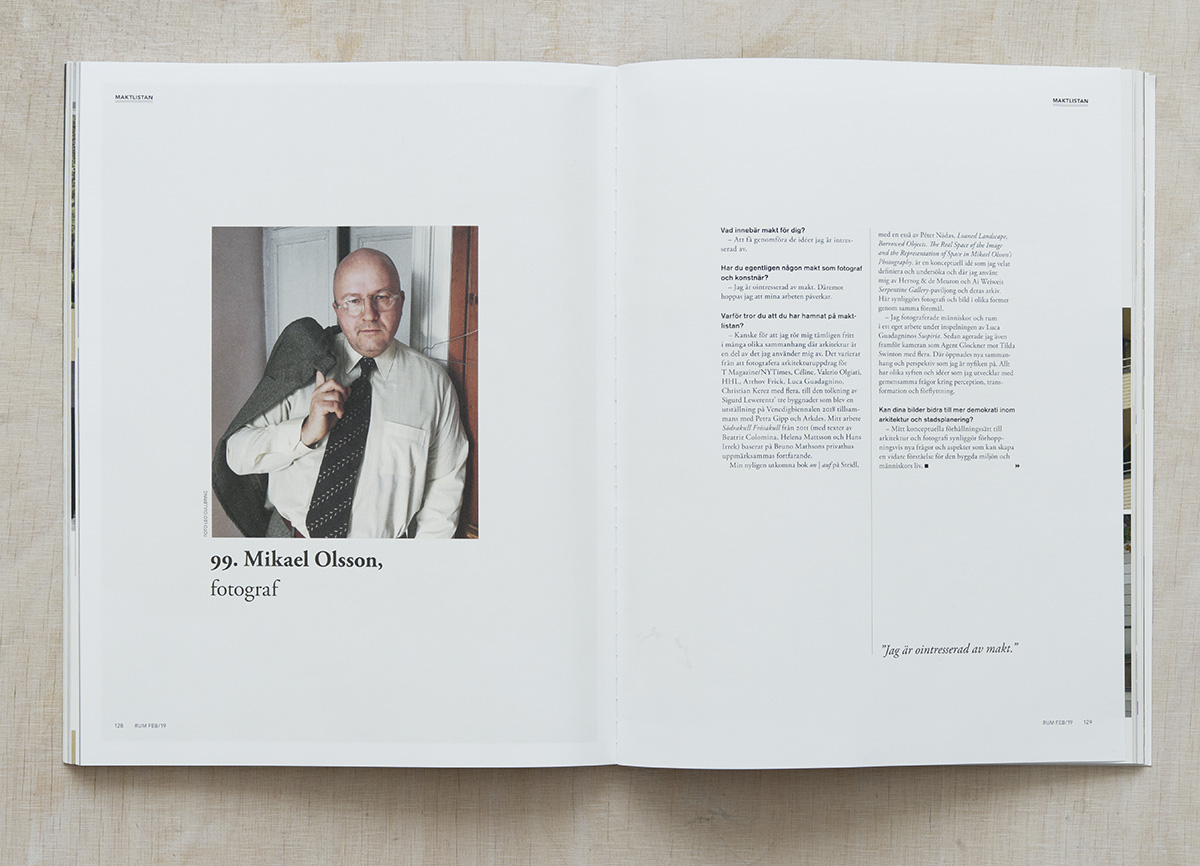 Mikael Olsson is noticed in The Magazine RUM Power List 2019.
FEBRUARY 14, 2019

Share on Facebook Twitter

→ Maktlistan RUM







EXHIBITION: PUBLICERAT – FOTOBOKEN I SVERIGE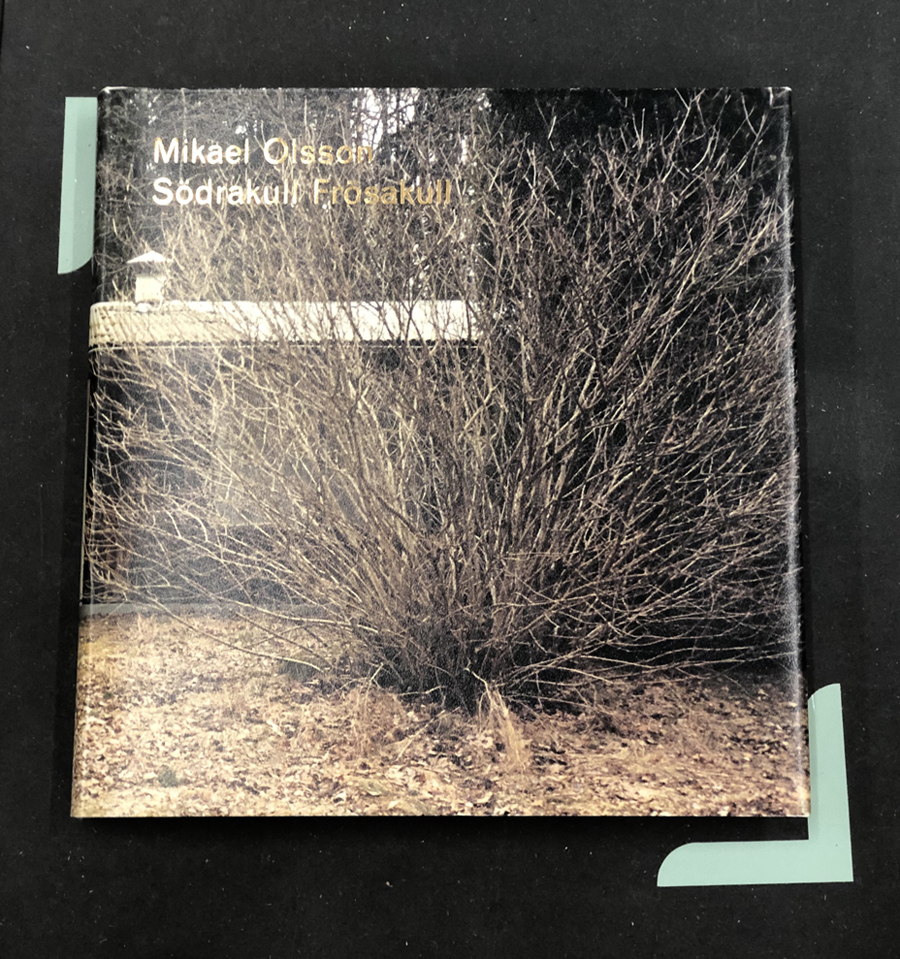 PUBLISHED is an exhibition that highlights the photo book in Sweden. The project spans from the 1860s, contains 200 titles and is based on three themes: Society, the Self and the Image. The exhibition has previously been exhibited at Hasselblad Center, Gothenburg.

The book; Mikael Olsson - Södrakull Frösakull, Steidl 2010, is exhibited.

Opening Friday 8 February at 17.00-20.00.
February 8 - March 10.

Centrum för Fotografi
Tjärhovsgatan 44
116 28 Stockholm
FEBRUARY 8, 2019

Share on Facebook Twitter

→ Publicerat – fotoboken i Sverige







JOSEF FRANK : VILLA CARLSTEN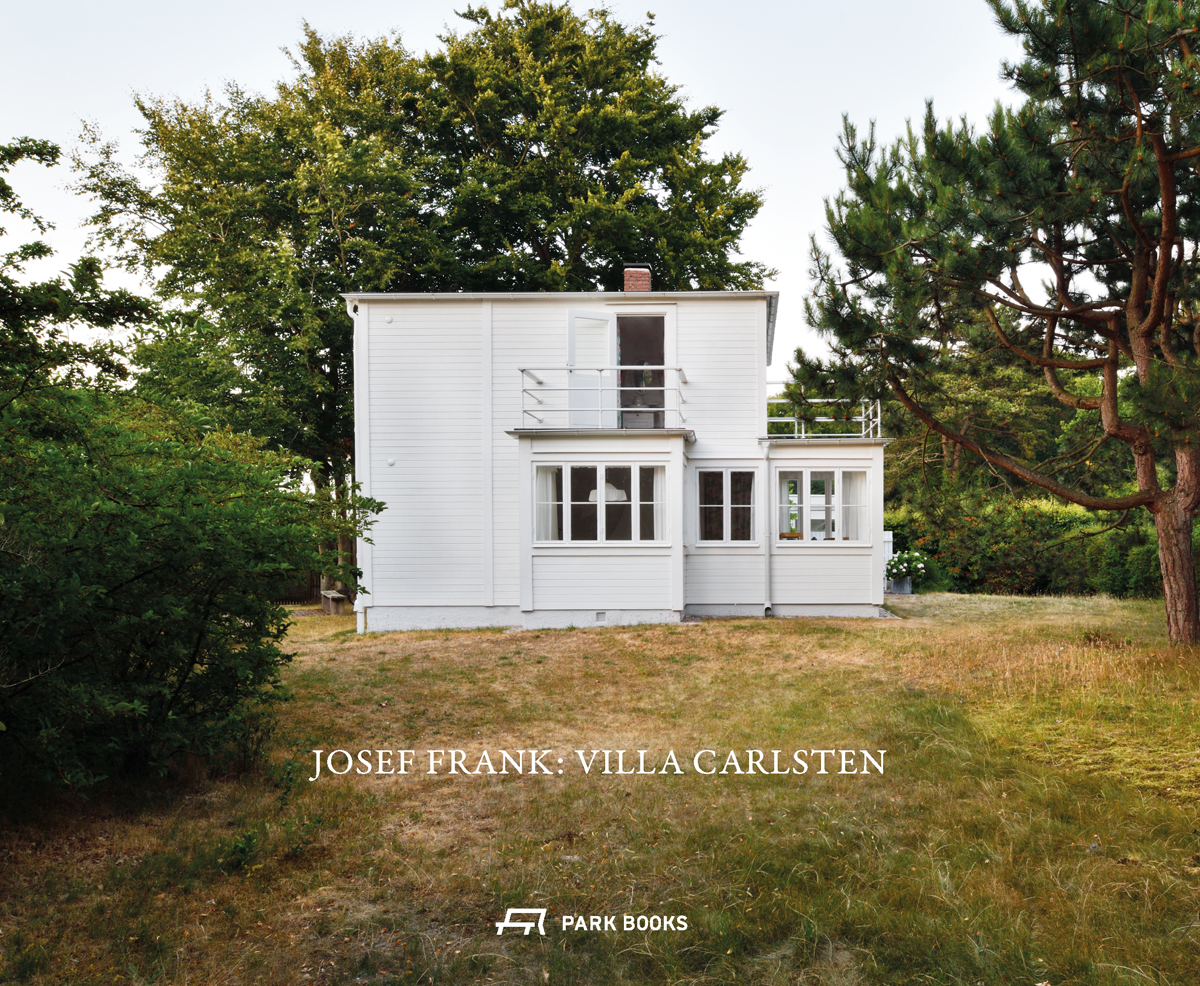 Josef Frank: Villa Carlsten.
Mikael Bergquist. Photography: Mikael Olsson.
Park Books, Zürich.
Bound.
About 64 pages, 47 color and 15 sw illustrations, 9 plans.
27 x 22 cm.
Book design: Daniel Bjugård
ISBN 978-3-03860-136-4

Release March 2019

Between 1924 and 1936, the Austrian architect Josef Frank (1885-1967) built five summer houses in Falsterbo, in the extreme south of Sweden. The clients were relatives and friends of his Swedish wife. Today, the southern Swedish houses are among the most significant buildings in Frank's work.
The Villa Carlsten is the smallest building in the group, but just like the others it was designed in a careful relationship between indoor and outdoor space. Frank paid attention to the movement through the house as well as the way the daylight came in. Despite its modest scale, the house is surprisingly complex and varied - everything looks a bit smaller than usual. Josef Frank's Villa Carlsten unites modern living culture and refined everyday architecture.
The book is the first comprehensive documentation of the Villa Carlsten. New recordings by Mikael Olsson show the house in its unique relationship to the environment. An essay by architect Mikael Bergquist places the villa in Frank's complete works.
JANUARY 17, 2019

Share on Facebook Twitter

→ Park Book







BEST OF 2018 ARTFORUM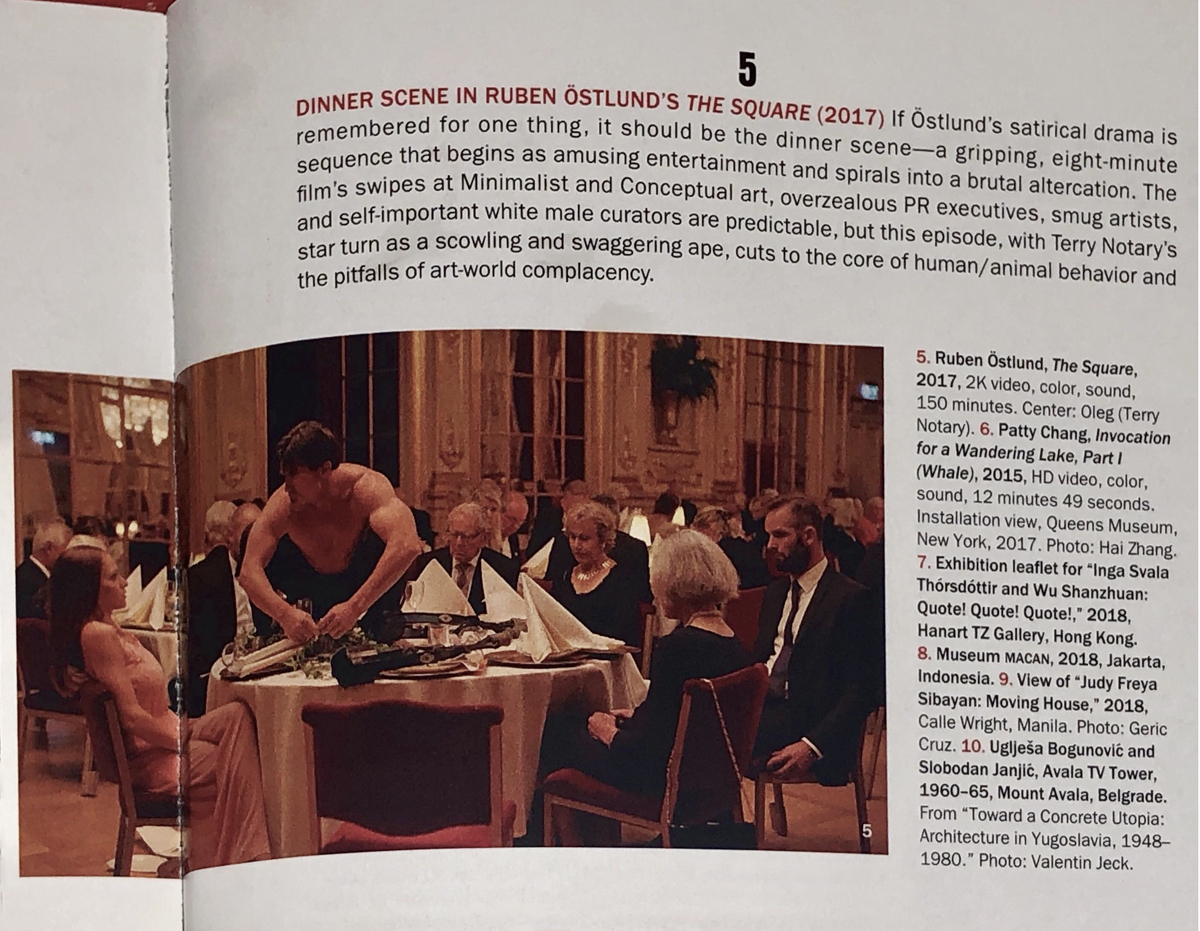 DINNER SCENE IN RUBEN ÖSTLUND'S THE SQUARE (2017)
If Östlund's satirical drama is remembered for one thing, it should be the dinner scene—a gripping, eight-minute sequence that begins as amusing entertainment and spirals into a brutal altercation. The film's swipes at Minimalist and Conceptual art, overzealous PR executives, smug artists, and self-important white male curators are predictable, but this episode, with Terry Notary's star turn as a scowling and swaggering ape, cuts to the core of human/animal behavior and the pitfalls of art-world complacency.

Artforum critic Pauline J. Yao (lead curator of Visual Art/ M+ Hong Kong) pics best of year 2018. The dinner scene in The Square by Ruben Östlund is no 5. Mikael Olsson appears in the film as an artist friend of the main character Christian (Claes Bang). In the famous dinner scene he engages in a conflict with Oleg (Terry Notary).

Each December Artforum invites a group of distinguished critics, curators, and artists from around the world to consider the year in art. Ten contributors count down their top ten highlights of 2018, while three others select the single exhibition that, for them, rose above the rest.
DECEMBER 24, 2018

Share on Facebook Twitter

→Artforum







SUSPIRIA SCREENING AT MOMA

Suspiria. 2018.
Directed by Luca Guadagnino
Friday, December 7, 7:00 p.m.
The Museum of Modern Art, New York

Suspiria. 2018. Italy/USA. Directed by Luca Guadagnino. 152 min.

Luca Guadagnino's reimagining of Dario Argento's iconic 1977 film is as fearless, bold, and lush as its predecessor. Amid unrest in a divided Berlin in the late 1970s, American Susie Bannion (Dakota Johnson) is admitted to Helena Markos's world-renowned dance company. Unbeknownst to Susie, a mysterious force appears to have taken hold of many dancers in the company, causing unexplained psychological trauma and grotesque physical ailments. Simultaneously lurid and gorgeous, Guadagnino's approach is as artful and delicate as his previous work, but uniquely embraces the darkness of the original film.
Courtesy of Amazon Studios.

Mikael Olsson stars as Agent Glockner in Suspiria.

The screening is part of The Contenders 2018.
Through January 8, 2019.
Every year there are films that resonate far beyond a theatrical release—if they manage to find their way to a commercial screen at all—or film festival appearance. Their significance can be attributed to a variety of factors, from structure to subject matter to language, but these films are united in their lasting impact on the cinematic art form. For this annual series, the Department of Film combs through major studio releases and the top film festivals in the world, selecting influential, innovative films made in the past 12 months that we believe will stand the test of time. Whether bound for awards glory or destined to become a cult classic, each of these films is a contender for lasting historical significance, and any true cinephile will want to catch them on the big screen.
Organized by the Department of Film MoMA.
DECEMBER 7, 2018

Share on Facebook Twitter

→ MoMa







1
2
3
4
5
6
7
8
9
10
11
12
13