Ola Kjelbye / Mikael Olsson :
Screen Tests
Filmkonst 2007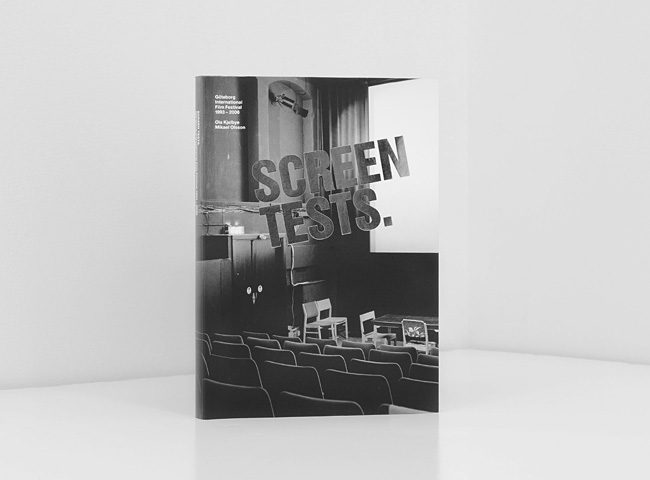 previous
1/11
next
Texts by Jannike Åhlund, Göran Bjelkendal, Gunnar Bergdahl och Johan Croneman.
An excerpt from Johan Croneman text (in swedish):
Innan jag berättar vad Göteborgs Film Festival egentligen är för något, vill jag berätta vad det också kan vara: En jakt efter kärlek, språkförbistring, melankoli på väg (från Landvetter) och artighet utan gränser.
Det är inte mina bästa minnen, de skulle jag aldrig våga vara lika generös med, men det är några stycken som man skulle kunna lära sig något av. Det gör man givetvis inte, men så här var det, ibland:
Include portraits of Wim Wenders, Ang Lee, Michael Haneke, Takeshi Kitano, Paul Thomas Anderson, Ben Kingsley, John Waters, Charles Dance, Alexander Payne, Nicolas Winding Refn; ans Swedish stars as Gösta and Marie-Louise Ekman, Amanda Ooms, Jan Troell, Pål Hollender, Stina Ekblad, Fares Fares, Roy Andersson, Björn Runge, Marie Richardsson, Helene Billgren, Stellan Skarsgård, Stefan Jarl and Gunvor Svensson. And also last, portrait of some legends that are not around us anymore -Vilgot Sjöman, Bo Widerberg, Katrin Cartlidge, Harry Schein, Ernst-Hugo Järegård, Håkan Alexandersson and Sven Nykvist.
240 pages
24 x 17 cm
Filmkonst 2007
ISBN 978-91-88282-67-5
→ REVIEW
→ ORDER