Om arkitektur (ur ett pågående samtal)
Arkus 2002/2011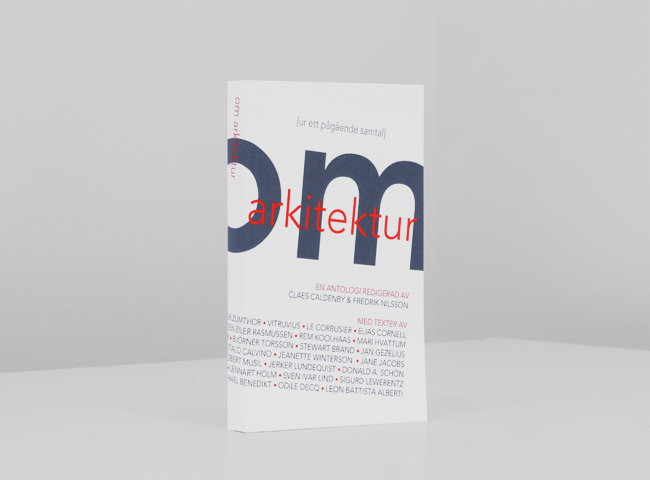 In the amount of books on architecture lacking literature to put in the hands of the curious beginner - a book in a fine and accessible introduces the reader in the architecture world. This anthology in paperback, which Arkus gave first published in 2002, is one an attempt to fill that gap.
The book spans from urban planning to interior design, from conceptual discussion to fiction. The texts are arranged according to a freely associative logic, where one thing leads to another in a conversation across time and space. The book also includes a series of images chosen by the artist / photographer Mikael Olsson. They should be seen as separate entries in an ongoing conversation about architecture.
Editor Claes Caldenby/Fredrik Nilsson. Picture editor Mikael Olsson.
Texts by Cecilia Eduards, Peter Zumtor, Vitrivius, Le Courbusier, Elias Cornell, Deborah, Berke, Steen Eiler Rasmussen, Rem Koolhaas, Mari Hvattum, Ulf Linde, Olof Tunström, Björner Torsson, Jan Gezelius, Stewart Brand, Wim Wenders & Hans Kollhoff, Italio Calvino, Jeanette Winterson, Jane Jacobs, Catharina Gabrielsson, Robert Musil, Jerker Lundequist, Donald A. Schön, Sarah Wigglesworth, Anne Beim, Lennart Holm, Sven Ivar Lind, Sigurd Lewerentz, Willy Kyrklund, Michael Benedikt, Odile Decq, Jan Gezelius, Leon Battista Alberti, Leon Battista Alberti.
Pictures and work by Jens Jensen, Andreas Gursky, Jockum Nordström, Katinka Ahlbom, Remy Zaugg, Mikael Olsson, Thomas Demand, Andrea Palladio, Miriam Bäckström, Henrich Tessenow, Rem Koolhaas, MVDRDV, Archigram, Piranesi, Steven Holl, Bengt Edman, Sigurd Lewerentz, Louis Kahn, Palladio, Clay Ketter, Monica Nyström, Esko Männikö, Luc Tuymans, Olaf Nicolai.
288 pages
Text in Swedish
11 x 18 cm
Paperback
Arkus 2011
ISBN: 978-91-978957-9-8
→ ORDER