METRO PICTURES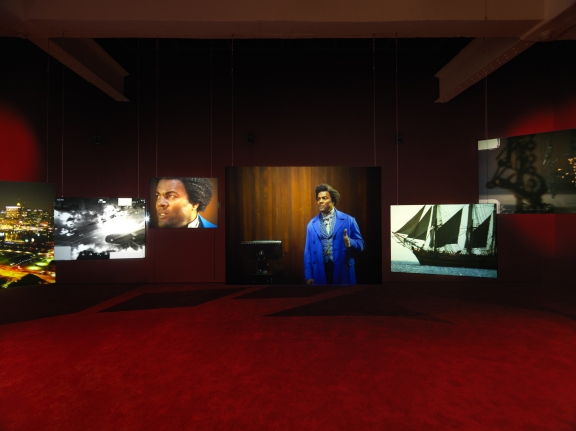 Mikael Olsson stars in Lessons of the Hour, a multi-screen film and video installation by pioneering global media artist Isaac Julien commission by Memorial Art Gallery, University of Rochester, New York.

Isaac Julien's visionary ten-screen film installation Lessons of the Hour explores the incomparable achievements of America's foremost abolitionist figure. After escaping slavery in Maryland, Frederick Douglass gained celebrity on the abolitionist circuit as an extraordinary orator, becoming the most photographed American of the 19th century. Julien's project is informed by some of Douglass's most important speeches, such as "Lessons of the Hour," "What to the Slave Is the 4th of July?," and "Lecture on Pictures," the latter being a text that connects picture-making and photography to his vision of how technology could influence human relations. Julien's immersive work gives expression to the zeitgeist of Douglass's era, his legacy, and the ways in which his story may be viewed through a contemporary lens.

At Metro Pictures Gallery, New York, March 8 - April 13, 2019.
MARCH 8, 2019

Share on Facebook Twitter

→ Metro Pictures